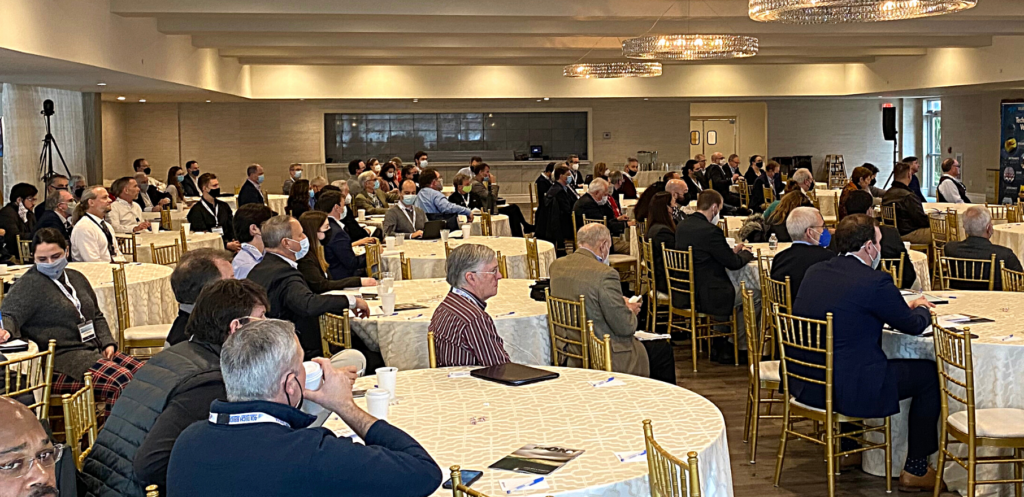 The Blue Innovation Symposium (BIS) is the premier event in New England for connecting the marine technology industry for education, networking and facilitating partnering opportunities. The BIS has welcomed more than 300 attendees and nearly 40 sponsors for the three-day event, which included keynote addresses, panel discussions and a unique series of five-minute flash talks.
For information or additional sponsorship options, please contact us at [email protected].
Join the Blue Venture Forum for our first annual Blue Venture Investment Summit.  The summit will provide investors and founders with a better understanding of the current state of investment within the blue economy's blue technology sector.
Share your BIS '23 experience with us. Use the hashtag #BIS2023 before, during and after the event to share your photos and takeaways.
Monday Jan. 23
Blue Innovation Symposium Flash Talk Sneak Peak Kick-Off
4:30PM-6:30PM
Innovate Newport
513 Broadway Newport, RI
Kick off the Blue Venture Investment Summit and the Blue Innovation Symposium by joining us at Innovate Newport for a Sneak-Peak at up-and-coming BlueTech Startup companies. 
Register to pitch, judge, or attend for free here: https://www.eventbrite.com/e/491250141397
Plenty of networking, appetizers and beverages. 
Tuesday Jan. 24
Blue Venture Investment Summit
8:00AM-12:00PM
Roger Williams University
1 Old Ferry Road
Bristol, RI
8:00AM-8:30AM Registration
8:30AM-8:40AM Welcome and Introductions
Tobias Stapleton, Director, Blue Venture Forum
Brian Williams, Chief of Staff, Roger Williams University
8:40AM-9:30AM Blue Technology Investing Today
Moderator: Don Grant, Executive Director, Ocean Start Up Project
Panelists: 
Steven Fox, Partner, Propeller
Anthony Bellafiore, Investment Manager, Katapult

Matt Stanley, Partner, Climate Tech Fund, BDC 

David Ford, Blue Angels
9:30AM-10:00AM Closing an investment round in today's investing environment
Moderator: Toby Stapleton, Director, Blue Venture Forum
Panelists:
Ian Estephan Owen, founder & CEO, Jaia Robotics
Abigail Carroll, Founder, Happy Planet Capital
Billy Thalheimer, CEO, REGENT Craft, Inc.
Daylin Frantin, Co-Founder and CFO, FLUX Marine
10:00AM-10:15AM Networking Break
10:15AM-11:00AM Deal Flow, the role of accelerator programs and tech transfer offices in creating Blue Technology Startups
Moderator: Justin Manley, Just Innovation
Panelists:
Eric Siegel, Executive in Residence, Creative Destruction Lab (CDL) Oceans
Hope Hopkins, Head of Acceleration, MassChallenge
Valerie Larkin, Technology Transfer Manager, Code 00T2, Naval Undersea Warfare Center (NUWC)
Allison Markova, Director, Technology Transfer, Woods Hole Oceanographic Institution (WHOI)
11:00AM-11:40PM The Future of Blue Tech Investment
Moderator: Alex Thompson, Co-Founder, DTN Ventures
Panelists:
Shelley Hessian, Manager, Start-Up Yard at COVE (Center for Ocean Ventures & Entrepreneurship) Invest Nova Scotia
Ted Janulis, Founder & Principal, Investible Oceans
Adam de Sola Pool, Investor
11:40AM-12:00PM Closing Remarks
Koty Sharp, PhD, Associate Professor, Biology, Marine Biology, and Environmental Science, Roger Williams University
Blue Innovation Symposium
The Future of the Blue Economy
1:30PM-6:30 pm
Newport Wyndham Hotel
240 Aquidneck Avenue
Middletown, RI
1:30PM-1:40PM Welcome and Introductions, Tobias Stapleton, Director, Blue Venture Forum
1:40PM-2:30PM Naval X Tech Bridge, a perspective from the Office of Naval Research
Moderator: Lee Silvestre, NavalX Northeast Tech Bridge Coordinator, 401 Tech Bridge
Panelists:
Captain Casey Plew, Director of NavalX
Dr. Patrick Cantwell, Deputy Director NavalX, Lead-Naval X Tech Bridges
Dr. Vic Ricci, Chief Technology Officer, Naval Undersea Warfare Center
Christian Cowan, Executive Director, University of Rhode Island Research Foundation
2:30PM-3:30PM Case Study 401 Tech Bridge, USV Tech Scouting Experimentation
Moderator: Linda Larsen, 401 TechBridge
Panelists:
Dr. Steven Bordonaro, Chief Scientist, Naval Undersea Warfare Center, Division Newport
Dr. Christopher Verlinden, CTO, Applied Ocean Sciences
Scott Carr, CEO, JASCO, Applied Sciences
Michael Jones, Founder, Subsea Sail
Kevin Rosa, Founder, Current Lab
3:30PM-4:00PM Networking Break
4:00PM-4:30PM Southern New England Ecosystem Panel
Moderator: Richard Soule, Vice President, Business Development, RI Commerce
Panelists:
Drew Carey, CEO, INSPIRE Environmental
Jeff Smith, Vice President and General Manager, Autonomous & Undersea Systems, Saab, Inc.
Perry Raso, Owner, Matunuck Oyster Farm
4:30PM-5:00PM Closing Speaker: Jim Bellingham, Executive Director, Institute of Assured Autonomy, The Johns Hopkins University
5:00PM–6:30PM Opening Reception
Welcome: Honorable Xaykham Khamsyvoravong, Mayor, Newport, RI
Blue Innovation Symposium
Wednesday, January 25, 2023
8:00 am – 7:00 pm
8:00AM-8:30AM Registration and Continental Breakfast
8:30AM-8:40AM Introductory Remarks & Welcome:
Tobias Stapleton, President, Blue Venture Forum
Jeff Smith, VP and General Manager, Autonomous and Undersea Systems, SAAB, Inc.
8:40AM-8:50AM Opening Remarks:
US Senator Sheldon Whitehouse (by video)
US Senator Jack Reed (by video)
Rhode Island Governor Daniel McKee (invited)
8:50AM-9:00 am The Undersea Technology Innovation Consortium (UTIC)
Molly Donohue Magee, Executive Director, UTIC
9:00AM-9:30AM Opening Speaker: The Future of Offshore Wind
Karen Baker, Office of Renewable Energy, Bureau of Ocean Energy Management, Department of the Interior 
Laura Hastings, Workforce Development and Health and Safety Executive, The Business Network for Offshore Wind

 



9:30AM-10:15AM Accelerating Innovation in Marine Renewable Energy
Moderator: Jamie Buck, Offshore Wind Supply Chain Manager, RI Commerce Corporation
Panelists:
Stuart Davies, CEO ORPC
David Duquette, CEO Littoral Power Systems
Martin Wosnik, University of New Hampshire and the Atlantic Marine Energy Center
10:15AM-10:30AM Networking Break
10:30AM-11:15AM Defense Innovation Unit (DIU), Commercializing Technologies
Moderator: Nate Walton, Founder & Principal, Sachem Strategies
Panelists:
Aneel Alvares, Director, Defense Engagement, Defense Industry Unit
Ted Curley, President & General Manager, iXblue Defense Systems, Inc.
Ben Kinnamen, CEO, Greensea Systems
Andrew Amigo, CEO, Blackburn Energy
11:15-12:00pm Flash Talks: Global Innovators and Entrepreneurs
Facilitator: Jim Hanlon, Board Member, Blue Venture Forum
Boston Engineering Corp.
MITRE Labs
Sensor Technology
RTI
Green Sage Prebiotics, Inc.
Quantum Devices Corp.
Sensor Globe
NZE
Voltai
Rising Tide BioAcoustics
12:00PM-1:15PM Economic Update Luncheon: The Future of Rhode Island's Blue Economy, In collaboration with the Greater Newport Chamber of Commerce
Facilitator: Tobias Stapleton, Director, Blue Venture Forum
Panelists:
Pete Rumsey, Chief Business Development Officer, URI Research Foundation
Bill Ash, Managing Director of Financial Services, RI Commerce
1:15PM-2:15PM From Ocean to Space, Getting Data out of the Ocean
Moderator: Jose Vazquez, Director, Defense & Security, Boston Engineering Corporation
Panelists:
Robert Hamilton, CEO, Woods Hole Group
Capt. Michael Brasseur, Commodore, Task Force 59
Tommaso Melodia, PhD, Co-Founder and CEO, Hydronet
David Shane, Director R&D Business Development, Boston Engineering Corporation
2:15PM-3:00PM Flash Talks: Global Innovators and Entrepreneurs
3:00PM-3:30PM Networking Break
3:30PM-4:30PM Creating Opportunities in the Blue Economy
Moderator: Melanie Nadeau, Executive Director, Center for Ocean Ventures and Entrepreneurship (COVE)
Panelists:
Arnold Furlong, CEO, Dartmouth Ocean Technologies
Brien Buckman, Product Management, New Ventures, Palo Alto Research Center (PARC)
Allessandra Bianchi, SeaTrac
Ben Garvey, President, Enginuity
4:30PM -5:00PM Annual Awards Ceremony
MOTN's Annual Steve Withrow Award – Sponsored by Marine & Oceanographic Technology Network (MOTN)
2023 Awardee: Cheryl Zimmerman, FarSounder
Rising Tide Awards – Sponsored by Boston Engineering Corp. & Ocean News and Technology Magazine
5:00PM-7:00PM Closing Reception
Blue Innovation Symposium Optional Tours
Wednesday January 25 and Thursday, January 26, Optional Tour – Tours of the maritime bridge simulators at USMRC, Middletown, RI Free. Shuttles will be provided to bring attendees from the Wyndham to and from the USMRC facility. Wednesday, 1/25/23 at 7:00 am. Returning to hotel by 8AM. Thursday, 1/26/23 at 7:00 am. Returning to hotel by 8AM. To join a tour text Chris Muise at 207-479-4795 or Email – [email protected]